360he.re for Android is now available* in beta from the Samsung Galaxy Apps Store installed on compatible** smartphones from the manufacturer, including the Galaxy S5.
You can just dive in and find your own way to a great Google Maps alternative if you want. But if you want to extend the pleasure, and make sure you're getting the most out of the app, then follow our guide to getting started.
Splash and log-in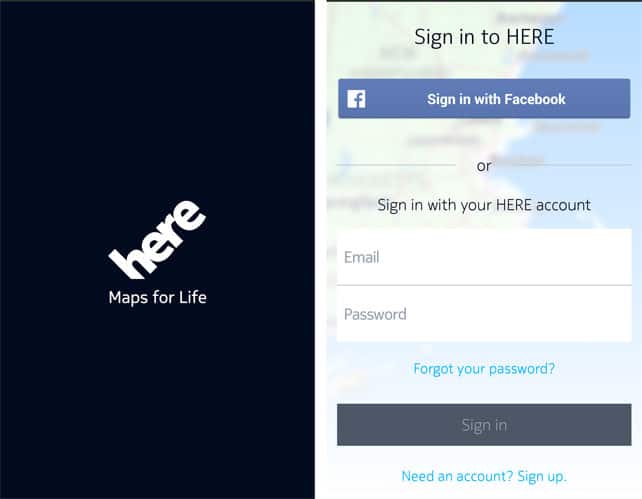 Here we are at the opening screens you'll get when you first start the HERE app. You can sign up for an account, sign-in to an existing HERE account, or just dive in without registering.
There is a very good reason to register and login, though: you can create Collections, categorised sets of map bookmarks. HERE stores these in the cloud, against your account details, so that you can access them from any device. Currently, we support Samsung Galaxy smartphones and Nokia X smartphones. We will soon also bring in access to your HERE account on wego.here.com and other platforms. HERE accounts supercede the old Nokia and Ovi accounts, but you can migrate your collections from your old Nokia accounts to a new HERE account.
In short, go ahead and sign up/sign-in – it's well worth the tiny amount of effort required. And no, we won't sell your details to advertisers or anyone else. Nor do we keep a permanent record of where you've been.
Finding yourself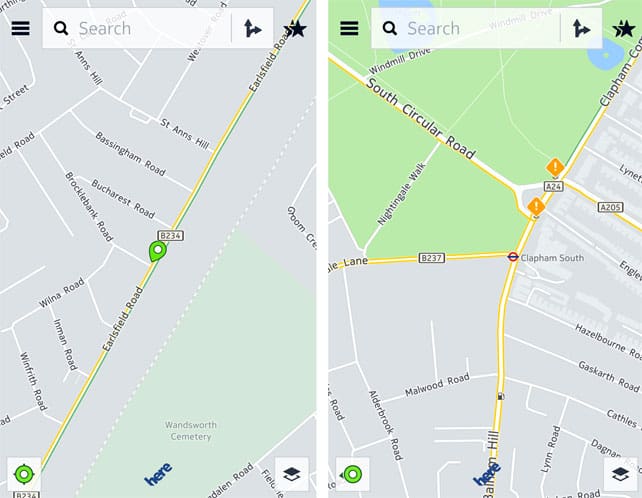 So here we are in Map view, the normal view when you get started. It's centred on you, and once the GPS satellites have found you, the marker should be a green dot with an arrow. This takes a little while to initialise when you first start. And so you may see a wider green circle around you to begin with – especially if you're indoors.
If you continue to see a big green circle around you, it may be the case that you haven't got GPS switched on, or your phone can't 'see' the satellites, and the app is using your mobile network towers and WiFi to try to find your position. Go ahead and switch GPS on in your phone's settings, if this is the case.
Source: https://360.here.com/2014/10/08/getting-started-android-basics/