Today 360he.re is happy to introduce HERE (beta) for Android. Thanks to a licensing agreement with Samsung, it will be available for free, exclusively for Samsung Galaxy smartphones like the Samsung Galaxy S5.
HERE for Android is a free app similar as Google Maps with fresh maps that truly keeps working even without an Internet connection: your location will be still found via GPS, and browsing the map, searching for places and offline navigation will also keep working, even if you're not connected.
Forget cumbersome caching of small areas and enjoy the possibility of downloading entire countries or regions.
Can't search for places or plan routes with your other map when Internet coverage is spotty or unavailable? No worries, HERE has you covered with full map functionality available offline, like when you're underground or in rural areas.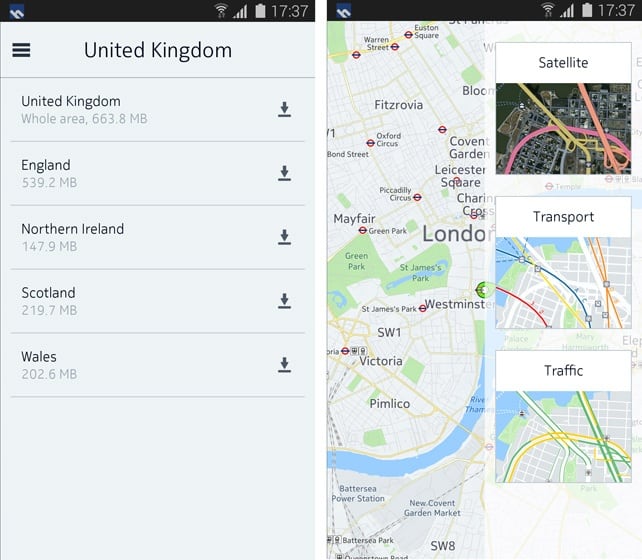 Keeping your maps stored on your device also means that they are super fast. Because they're instantly available, you can pan them, rotate them and zoom in and out without any lag. HERE will be the maps app you can always rely on.
When you search for a place with HERE, you'll have the option to drive, walk or take public transport to get there. You can adjust options to get the best route according to your taste. If you want to take a car, for instance, you can exclude toll roads and you get up to 3 different route alternatives.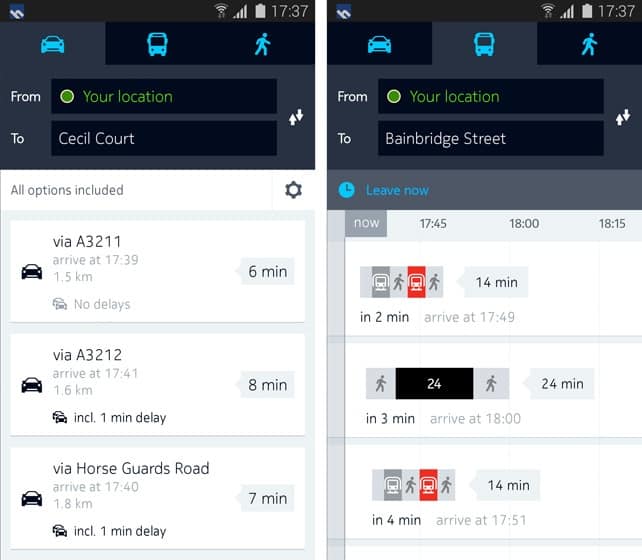 You also have two search options: you can type anything in the search field or use the search category list to see at a glance where all the nearby restaurants, sights or movie theaters are.
If you go online you can enjoy more advanced features, like live traffic and real-time transit schedules. You can also share the places you find with family and friends and save your favorite destinations into Collections that can be synced with other devices and here.com.
With HERE, you can get maps for almost 200 countries, with turn-by-turn walk or drive guidance in almost 100 of those, traffic information in more than 40 and transit maps and directions in more than 750 urban areas across more than 40 countries.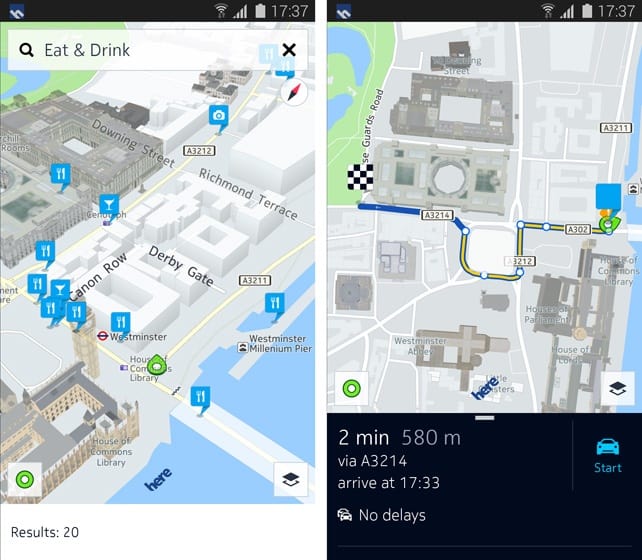 Not only are we continuously expanding our coverage, but we're going to introduce more great features in the coming months.
Beside the ability to use HERE without any Internet connection, there are a few more features we're particularly proud of: HERE for Samsung's Galaxy phones can pair with the Samsung Gear S to sync routes with the smartwatch. Additionally, it works with Glympse and with Samsung's Car Mode.
When you pair your Samsung Gear S with a compatible smartphone with the HERE app, you can plan walking or transit routes on your smartphone and then beam them to the smartwatch over Bluetooth to continue the navigation there. So you get the best of both screens!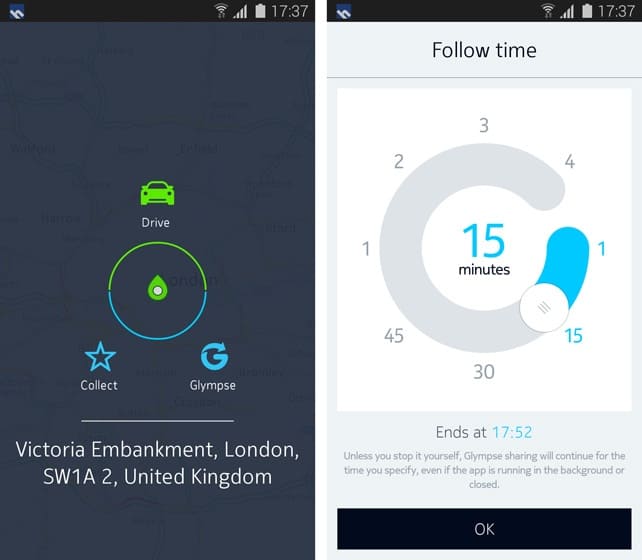 Glympse is a fast, free, and simple way to share your location in real time with the people you trust. By tapping on your location in HERE for Android, you can send a Glympse to your friends to let them know you're on your way: set for how long you're going to share your location, choose the recipients and hit send; Glympse will take care of the rest. For privacy, you can cancel your location sharing at any time.
Samsung Car Mode is an exclusive app for Samsung's Galaxy smartphones specifically designed for in-car use. It simplifies your phone to provide only a few, essential options, like calling, messaging, music and directions. Everything is voice activated, so you can say where you want to go and HERE will direct you there.
HERE for Samsung's Galaxy smartphones will be available when the Samsung Gear S arrives in stores.
[Update] The app is out now and available for download through the built-in Samsung App Store on compatible devices.
Source: https://360.here.com/2014/08/29/here-samsung-galaxy-android/